Getting Ready for Selwyn Ridge Primary School
Thank you for considering Selwyn Ridge Primary School for your child's education. Starting school is an exciting time for you and your child.
Enrolment Process
School Zone
All students who live within the home zone described below (and shown on the map) shall be entitled to enrol at Selwyn Ridge Primary School.
The zone includes all residential addresses on
Welcome Bay Road from (& including) 79 east to 238;
Meadowviews, Ryegrass, Cloverlea, Lucerne, Pampas and Ridgemount;
James Cook Dr from Welcome Bay Road to Endeavour & Keam;
Endeavour, Pandora and Keam;
All streets east of Otumanga Stream as far as (& including) Philomel, Osprey to 82, Kestrel, Hawk and Peregrine;
Kaitemako Road and all adjoining cul-de-sacs.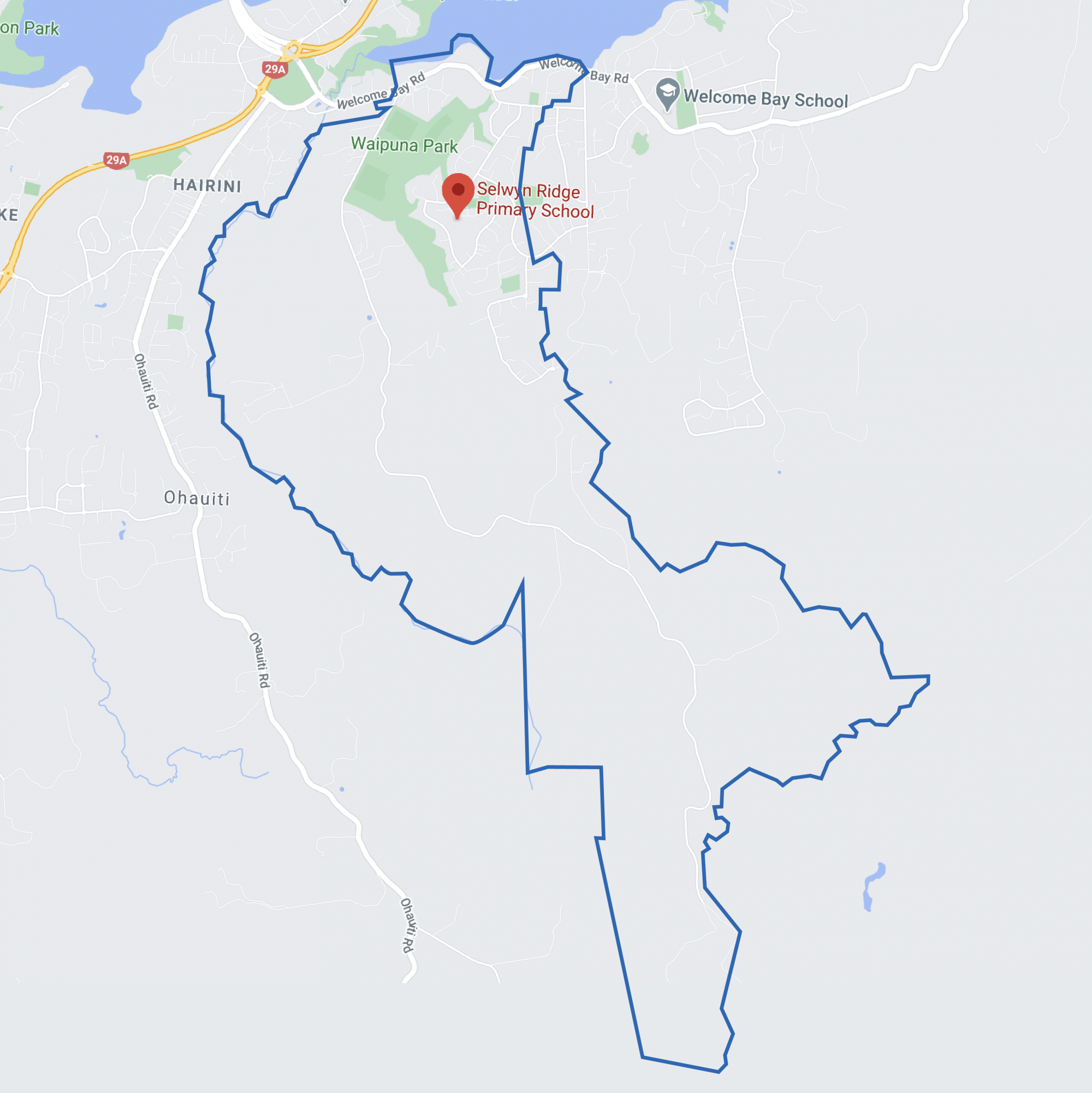 Out of Zone Enrolments
Each year the board will determine the number of places which are likely to be available in the following year for the enrolment of students who live outside the home zone. The board will publish this information by notice in a daily or community newspaper circulating in the area served by the school. The notice will indicate how applications are to be made and will specify a date by which all applications must be received.
As per the enrolment scheme legislation, applications for enrolment will be processed in the following order of priority:
The following priority order applies for out of zone enrolments:
First Priority This category specified as first priority in the Education Act 1989 is not applicable to Selwyn Ridge School because the school does not run a Special Programme approved by the Secretary of Education.

Second Priority will be given to applicants who are siblings of current students.

Third Priority will be given to applicants who are siblings of former students.

Fourth Priority will be given to applicants who are children of former students of the school.

Fifth Prioritywill be given to applicants who are either children of board employees or children of board members.

Sixth Priority will be given to all other out of zone applicants.

If there are more applicants in the second, third, fourth, fifth or sixth priority groups than there are places available, selection within the priority group will be by a ballot conducted in accordance with instructions issued by the Secretary under Section 11G(1) of the Education Act 1989. Parents will be informed of the date of any ballot by notice in a daily or community newspaper circulating in the area served by the school.
Applicants seeking second or third priority status may be required to give proof of a sibling relationship.
School Hours
(we recommend arriving by 8:15am to settle before the bell).
Morning Tea: 10am - 10:25am

Lunch: 12pm - 12:55pm

School ends: 2:30pm
School Uniform
All children must be in uniform to attend Selwyn Ridge School and these can be purchased through our online store.
We appreciate your ongoing support with ensuring that your child is wearing the correct and tidy uniform to school. In Terms 1 and 4 school uniform sun hats are compulsory.

Personal Belongings
In accordance with our uniform policy, children are able to wear a watch, one pair of studded earrings and other jewellery for cultural reasons.
Electronic games, mobile phones and devices are not allowed at school unless requested by staff for a specific purpose. We discourage toys of any kind. The school accepts NO responsibility for personal items brought to school by children. This includes sports gear.
Celebration Assembly
Every second Friday, in even weeks, we have a celebration assembly, during which we celebrate the fortnight's learning and special events. These celebrations feature a number of awards and recognition of learning and students take pride in presenting and performing learning. We welcome all parents/caregivers and visitors.
What stationery will my child need?
Stationery is now available form the Selwyn Ridge School online store If you prefer to shop elsewhere there are specific lists available at our school office.
Sending money to school
From time to time it is necessary to send money along to school for such things as books, lunches and other activities. Please forward money in an envelope, which is clearly marked with the child's name, room number, amount enclosed and purpose.
How to I find out about my child's learning progress and achievement?
Learner/Parent/Teacher conference days will be held twice during the year. Teachers are available at any time to discuss your child's learning. Please contact the teacher for an appointment. Two written reports will also go home during the year.
How am I kept informed about school happenings?
A fortnightly newsletter is published and contains dates and important information about upcoming events etc. The newsletter is also available on our school website www.selwynridge.school.nz If you are a Facebook user then please 'like' our page for regular updates and photos.
How can I be involved at school?
We welcome parental involvement in a variety of ways at the school. We encourage and value parent's input with many school events which involve pupils, staff and parents. These are sports days, displays, field trips, fundraising and other activities throughout the year. We also run parent information sessions, with topics that are of interest to you. We also ask for your support your child in such things as making sure children complete home tasks and bring necessary gear for swimming and sports.
Leaving School Grounds
To ensure safety of your child, they are not permitted to leave the school grounds without teacher supervision once they have come to school unless collected by a parent/caregiver. If you have to collect your child for any reason please contact the office before doing so.
When can parents visit school?
Parents are welcome at the school at all times. If you wish to see a class teacher for a longer conversation, please make an appointment outside class time. If you would like to assist in the classroom please make arrangements through the classroom teacher.
Leaving School Grounds
To ensure safety of your child, they are not permitted to leave the school grounds without teacher supervision once they have come to school unless collected by a parent/caregiver. If you have to collect your child for any reason please contact the office before doing so.
What should I do if my child is absent?
If your child is not going to be at school we ask that you ring and leave a message with the school office. A check is done will all absentees just after 8:30am. If we haven't heard from you, we will contact you after 8:30am to ensure your child's safety.
School Records
Please ensure the school office have your most up-to-date phone and address details to be able to contact you, especially in an emergency.
What happens if my child is sick at school?
We have a medical room/sickbay near the school office where your child will be taken to if they are unwell. We will contact you by phone or your emergency contact if you are unable to be reached.
What happens if my child is unhappy?
We do everything we can to ensure children are happy at school. It is important to let the teacher know if your child is unhappy so that problems can be identified and solved.
What do I do if I have problem or concern?
Any day-to-day queries can be dealt with by the classroom teacher. Any serious concerns or problems, please call to make an appointment to see one of the School leadership team. A comprehensive policy is available at the office if you wish to see it.
What happens if my child damages property?
Any damage caused by careless behaviour or deliberate vandalism will be repaired with the help of the persons concerned. We may ask that you contribute a cost should that be necessary.
What happens during wet lunchtimes?
Children eat inside and are supervised by teachers should the weather be too wet or cold to be outside.
Parent Support Committee
We are extremely fortunate at Selwyn Ridge Primary to have a wonderful Parent Support Committee. Parents work to support learning programmes in many ways including fundraising and welcoming new parents.
The Support Committee is always looking for new members to join in the fun and help out. If you are interested in becoming a member of this great group we would love to hear from you.
Biking to school?
All children must wear a helmet and shoes when riding bikes to school. We have a bike stand by the Holmburn Street entrance to secure and lock bikes.
How can I find out about sport/music and other activities available for my child?
There are a number of activities your child can be involved in during the school day and after school. Regular notices are sent home at the beginning of every term. If you would like further information please ask the office.
After school care
There are a number of after school providers who collect children from school at 2:30pm. Please ask at the office for various brochures.
Other facilities available for hire
Community Hall
Ground hire
Health
Selwyn Ridge school is a smoke-free zone. Smoking is not permitted at any time in any part of the school grounds.
If a child is requiring medication at school, it is essential that a parent fills in a form giving school permission to administer the medication.
Parents are urged NOT to send children to school while ill or infectious, for the child's sake and to prevent the spread of infection.
If children are allergic to bee stings or any other stimuli that needs immediate action, please advise the school and provide us with a sufficient quantity of the antidote to be kept for emergencies.
Should a child suffer an accident at school, they will be attended too, and if it is felt that a doctor's advice is necessary, parents or caregivers will be contacted immediately. Please note that teachers are not permitted to administer analgesics to children unless on a doctor's prescription.
Please notify the school regarding any infections (including head lice) your child has so we can take measure to prevent the spread of the condition.
Common diseases and periods of exclusion from school are as follows:
CHICKEN POX: For the period of one week after the appearance of the rash or while there are still watery tops.
HEAD LICE: A lotion is available from the chemist and should be used as instructed to rid the hair of all eggs. The child may attend school once treated.
MEASLES: For at least seven days from the appearance of the rash and until recovery.
MUMPS: Until the swelling of all involved glands has completely subsided and the patient has returned to normal.
RINGWORM: May attend school so long as the patient is having treatment supervised by a Doctor.
SKIN INFECTIONS: Not necessary so long as the affected areas are covered and receiving treatment.
WHOOPING COUGH: For at least three weeks from onset.
Please remember
Before we are able to administer medication at school, we require the completion of a form giving us permission to do so.
Please keep in touch in regard to any health or safety concerns school and advise us immediately of any vision or hearing issues. When you enrol a new entrant it is important to bring the child's birth certificate and their immunisation certificate so these can be entered as sighted in the school records. This is a ministry requirement.
Still have further questions?
Please do not hesitate to contact us if you have further questions and queries.